Four play: Mazda has topped the JD Power CSI rankings for the fourth year running.
MAZDA has solidified its status as one of Australia's best brands for after sales service with its fourth consecutive win in the JD Power Australia Customer Service Index (CSI) study.
While many of the leading brands underneath Mazda have changed position compared to 2018, all recorded an increase in their respective satisfaction score by an average of 24 points in the study, which ranks the satisfaction levels of new-vehicle customers using a 1000-point scale.
Mazda increased its satisfaction score by 30 points from 789 to 819, well above the industry average of 788 but below its 2017 figure of 835 points.
Meanwhile, Audi has come out on top among the major luxury brands, dethroning Mercedes-Benz which topped the rankings last year.
But in contrast to the mainstream brands, the industry average among the luxury marques dipped from 821 to 798 points.
For the mass-market players, the top two positions remained the same as last year, with Toyota finishing second with a satisfaction score of 799, up 16 points year-on-year.
Honda saw a big rise from eighth in 2018 to finish in third place, with a score increase of 43 points – the second-largest point increase among major brands.
Coming in fourth at 790 points was Hyundai, which moved up one place over 2018 with a 21-point increase.
Subaru (789) and Ford (788) claimed fifth and sixth place respectively, with the Japanese brand climbing from seventh place and the Blue Oval seeing a significant rise from 10th place with a 42-point improvement in its satisfaction score.
The first of the manufacturers to finish below the industry average was Nissan (783), which dropped from third place to seventh with only a modest four-point increase, while Volkswagen climbed two spots to finish eighth, with largest score improvement, up 46 points to 781.
The biggest loser from the 2019 results was Suzuki (777), dropping five positions from fourth to ninth with only a five-point increase, while Holden's difficulties in the marketplace continued with a four-place drop – with 770 points – to round out the top 10.
Jeep (769) finished in 11th place, however due to an insufficient sample size in 2018 it could not be compared year-on-year.
Bringing up the rear was Kia (766), which dropped three places to 12th, and Mitsubishi (761), which claimed the dubious honour of finishing in last place for the second consecutive year, despite a fourth-place finish in 2017.
In luxury terms, Audi climbed from second place to be the only major luxury brand to finish above the industry average, leading the way with 802 points, despite dropping 28 points year-on-year.
Both Mercedes-Benz and BMW finished below the 798-point average, with Benz recording a score of 796 and BMW remaining third at 790 points.
According to JD Power, factors that had the greatest influence on satisfaction score included being immediately attended to during a service, leaving a customer's vehicle settings and controls unchanged, informing customers of upcoming service schedules and getting service and repair work right the first time, without having to return to the dealer.
The survey is now in its 10th year, with the 2019 iteration covering 5624 mainstream and 540 luxury car owners who have purchased a vehicle within the past five years and had it serviced over the last 12 months at an authorised OEM service centre.
Customer satisfaction is measured in five key categories – service quality, service initiation, vehicle pick-up, service adviser and service facility.
It also takes into account whether a customer is likely to recommend the particular brand on a scale of zero to 10.
JD Power director and country manager for Australia Bruce Chellingworth said that service speed and a trusting relationship with customers were key to positive satisfaction results.
"It is evident that after sales customers want a quick and efficient drop-off and pick-up process," he said.
"At the heart of it, dealers must still ensure that service advisers build trust with their customers.
"Throughout this challenging year for the Australian automotive industry, mass-market brands have increased their customer satisfaction level for the service experience.
"As mass market brands improve their service levels, facilities and processes, luxury brands need to re-emphasise their difference and value proposition."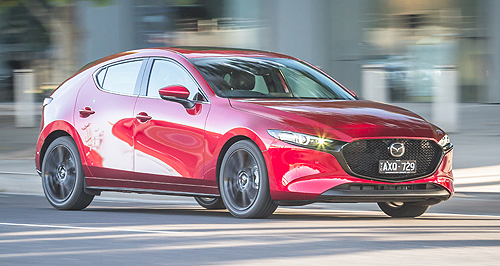 20 Aug 2019